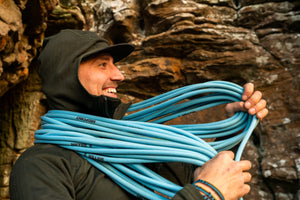 Browse our collections now
What makes Metered Ropes different from Plain Ropes?
Safer rappelling - keep track of how much rope you have left before reaching the end of your rope. If using two strands or two ropes, know instantly if your ropes or strands are misaligned by matching meter marks. And always tie stopper knots :)
Precise route development - know exactly how tall your project is and exactly how much space exists between each bolt before you drill

Faster coiling - quickly find the midpoint or the rope ends by counting up or down the markings

Easy end cutting - no need to measure how much to cut or where your new midpoint is, just cut one meter off each end and re-seal the rope ends with the included two free heat-shrink end caps

Proudly made in Rogers, Arkansas
Who we are
A veteran-owned, Latino-owned company, Lacaida was founded with one goal in mind: to produce the safest, prettiest, and most useful climbing rope in the world.

We take pride in being an Arkansas-based company, and endeavor to draw attention to our amazing climbing community and resources through our products.

Finally, we believe that we can help advance the state of modern climbing not only through product innovation, but also through inclusivity. We believe climbing is for everyone, and we strive to ensure representation of all climbers in our marketing materials.

from La Caída, Spanish for "the fall"